I received a parking ticket while in Denver a few weeks back. I went to this DISH Network deal, because the place I work at is going to start selling DISH. So, it wasn't for fun. Hell, it wasn't even that enjoyable. The whole thing was kind of over my head, and no one was overly friendly, and the whole thing kind of sucked. This is going to come as a complete shock, but I'm not real fond of being around people. I know, I know, I seem like such a people person. Yeah, I'm afraid that too many years of dealing with bitchy, self-absorbed people and their stinking problems that I cannot fix have led me to see the worst in people. I don't give anyone a fair shake anymore. I just start looking for the aspects of their personalities that are going to piss me off right from the start. Life is easier this way, and believe you me, everyone can piss you off if you just give them half a chance.
So, anyway, after this DISH thing, I go out to my car and there's a flipping parking ticket in my door. 'What the hell?' I think to myself… actually, I believe I may have yelled it out loud. I grab the ticket and try to figure out what it is for.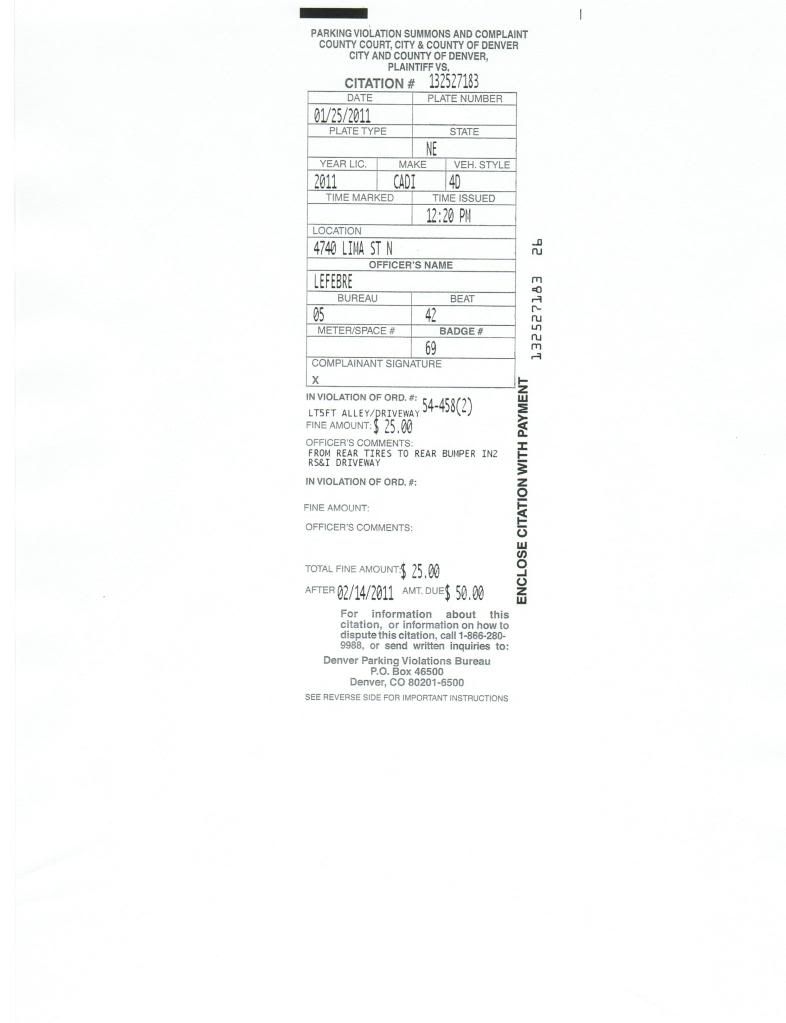 Okay, so from my rear tire to my rear bumper is in the driveway of the place I went to the DISH thing at. By the way, their driveway is like a football field wide. I had no idea I was violating any sort of ordinance, so once I get home to Nebraska, I call the number on the ticket to dispute it. It is pretty obvious that the chick who answers the phone does not like dealing with people calling to dispute tickets all day. I explain the situation to her, that I'm from out of town, that I was hardly in the HUGE driveway, that there are no markings or signs stating where you can or cannot park, etc.
"Denver statute states that you can not park within five feet of a driveway," she obviously reads from some sort of card.
"How am I supposed to know what Denver statutes are?" I ask. I'm not being snotty or rude or anything, just asking a question.
"Well, sir," she practically seethes, "you will have to file a protest by mail."
"Then why is this phone number on the citation I received," I ask.  I'm starting to feel not so polite.
"Or you can schedule a time in front of the magistrate."  She completely ignores my question.
I hang up.
So, I send the following letter, with documentation, to the Bureau of Idiots Who  Penalize Visitors to the City and County of Denver… or whatever:
Yes, I'm anal and even included a Goggle Earth image of the driveway… just to prove my point about how long that stinking driveway was.
I mail my dispute, confident that they will let the whole situation serve as a warning and let it rest at that.  I figure the next time I go to Denver, I will know better and I will be able to follow the ordinance.  I start to have flashbacks to my dispute of my property tax increase with the idiots who call themselves commissioners for Scotts Bluff County, but I figure I can't lose every time I battle the powers that be, right?  Right?
A couple of weeks go by, and I get the following response from the Bureau of Idiots Who  Penalize Visitors to the City and County of Denver: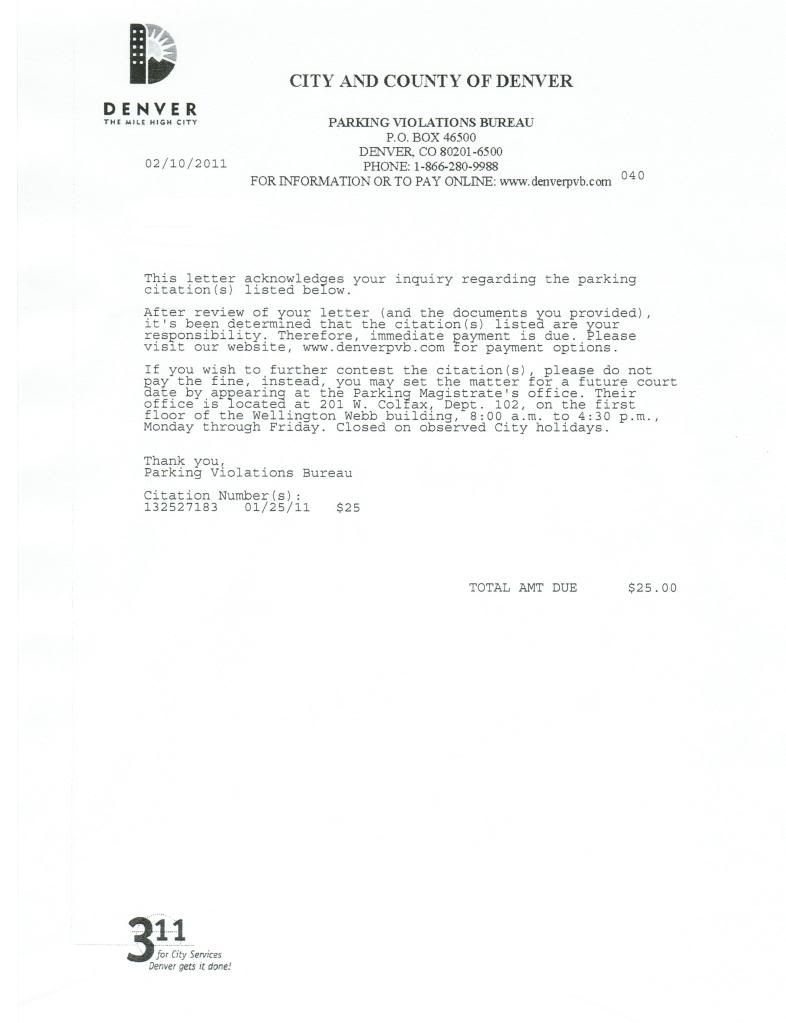 Seriously… a form letter? I go off. No wonder my blood pressure is out of control and I'm on the verge of a heart attack. Every one I deal with has their head up their hiney and is out to get me.
"Screw it," I yell. "I'll just not pay it. What are they gonna do, send meter maid Lefebre up to Nebraska to arrest me?"
My wife tells me to calm down.
"I don't care if they issue a warrant for my arrest in Denver.  They'll never catch me… and if they do, they'll never take me alive!"
My wife tells me I'm overreacting.
"I'm not overreacting!  Stupid meter maid Lefebre is obviously just a Colorado Buffaloes fan, saw my Nebraska plates,  and is taking it out on me that the Huskers kick the snot out of the Buffs almost every time they play… and I don't even care about the stupid rivalry!"
My wife tells me I need to watch my blood pressure.  She tells me that the ticket is going to be paid and I don't need something stupid like this going on my record.
"Fine," I yell.  It's kind of funny how I let everything piss me off and I end up yelling at my wife because of it.  She doesn't think it's really funny, but you know what I mean.  "But I'm going to let them know how I feel about it."
The wife rolls her eyes and smiles… which see seems to do a lot when I'm all torked off.
So, I type up the following and include it with the payment to the Bureau of Idiots Who  Penalize Visitors to the City and County of Denver: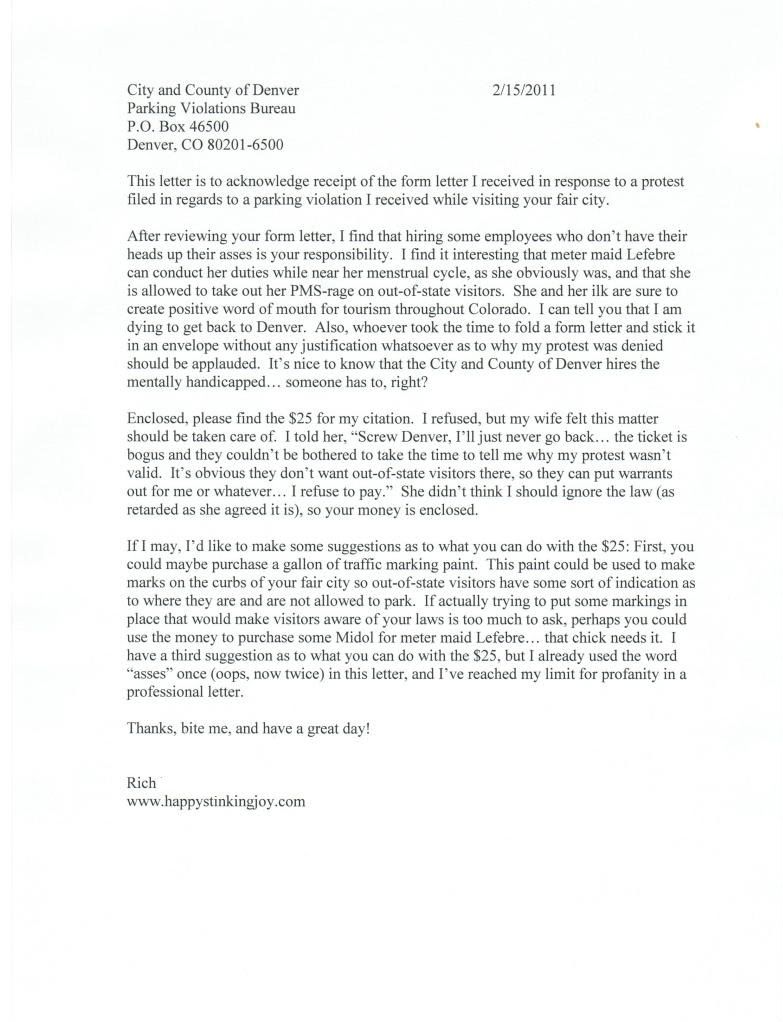 I mailed it yesterday. They will probably receive it the first of next week, and I bet no one even takes the time to read it… but I don't care. I feel better for having written it, and the next time I go to Denver, I'm going to violate as many parking ordinances as I can… even though I don't have a freaking clue as to what any of them are. I bet I'll be able to do it without even trying… and I bet meter maid Lefebre will be waiting for me…