There are so many things about the Craphandle of Nebraska not to like!  The wind blows here almost all of the time.  The scenery is… uh… not very scenic.  There is little to do here that does not involve killing critters of one kind or another or drinking lots and lots of alcohol (I know, I know; sounds like a redneck heaven… but if you aren't 100% pure redneck, it sucks.)  Low wages and a relatively high cost of living (i.e. we make less and pay more because we like killing stuff and drinking stuff… or something.)  Oh, I could go on for hours about the stuff here that sucks!  There is some good stuff here too, but the good stuff isn't nearly as fun to write about!
One of the most annoying things of all about living in the Craphandle of Nebraska is the stinking old Germans!
Now, I have nothing against Germans as a people (other then, I guess, World War I… & maybe World War II… and that holocaust thing wasn't real cool… and BWMs kind of suck 'cause they are only for rich, snotty people.)  Heck, I have my fair share of German blood running through my veins.  However, the Germans here are different!  The Germans here in the Craphandle of Nebraska are Germans from Russia who left Russia to get away from the Czars… blah, blah, blah.  I've had the whole thing explained to me before but it didn't interest me at the time and I have no desire to bore you to death with it now.  To make it short: Germans around here are… uh… different; did I already mention that?
To Germans around here, bratwurst isn't a mainstay and sauerkraut is seldom seen.  "Garlic sausage" is the meat of choice.  Never heard of garlic sausage?  Yeah, neither has 99% of the US population.  Garlic sausage is a beefie porkish big link sausage thingie that tastes pretty garlicy.  Don't get me wrong, the garlic sausage stuff is good… but it ain't bratwurst!  Also, they have these things here called "cabbage burgers."  These are also known in German communities around the world as kraut burgers or runzas.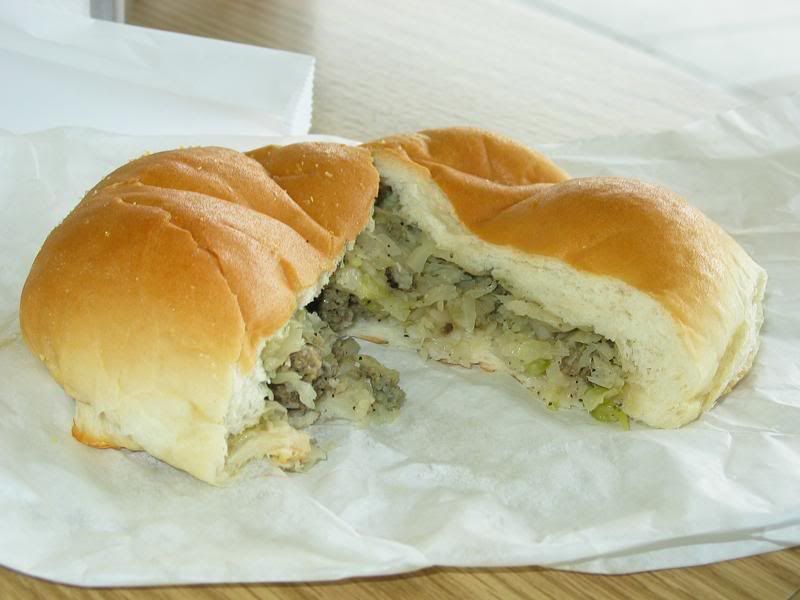 Kraut burgers are a mixture of lightly seasoned cabbage and ground beef stuffed inside bread dough and baked.  Sounds yummy, huh?  Actually, they aren't nearly as gross as they sound and, if you're like me, you will enjoy the gas-producing side effects:)  There is even a franchised fast food restaurant based out of somewhere in eastern Nebraska that specializes in kraut burgers; it's called Runza and it sells extremely overpriced, very small versions of the kraut burger.  So, next time you're in Nebraska, stop at a Runza and order some cabbage and ground beef stuffed bread dough… it will only take like 3 of them to fill you up, and they are only like $5.00 each.  That's a reasonable lunch!
Germans around here also like their "German Blackberries", which aren't blackberries at all but are the potentially lethal Black Nightshade.
The local Germans use these berries, which are from the same plant family as tobacco, in breads and various desert products. Poisonous tobacco berries… line up kiddies, Grandma has something special for you!
Aside from the strange cooking habits of the stinking Germans, the attitude that many of these people force on you will either really tick you off or make you sick!  "My family helped found this valley," the stinking Germans will say ('cause, I guess, much of the Craphandle is located in a valley.)  They throw this at you in an attempt to, I don't know, impress you?  It's like the fact that this moron's great-grandfather settled here a long time ago makes the moron someone special.  I always want to come back with something like:
"Well, if your family helped found this valley, why in the hell aren't there better paying jobs here?  Why is the crime rate so proportionately high here?  Why has this turned into a retirement community where young families have to be semi-retarded to stay?  Why is it, that at any given time of the day, you can be stopped by not one but two trains when trying to travel from one side of the "twin cities" of Scottsbluff and Gering to the other… what kind of "progressive" community still has railroad crossings on major streets instead of underpasses or overpasses… oh, that's right, we're not 'progressive,' 'cause we're a bunch of stinking Germans who don't need no stinking progress!  Why is there a meth lab in every corn field and a meth head on every corner?  If your family helped found this valley and played a major part in what this valley is today… I guess your family kind of failed us, didn't they, Sparky!"
Of course, the stinking old Germans only throw this crap out when you are dealing with a customer service issue and they want special treatment because of "who they are."  If I was actually able to come back with the response I feel is appropriate, I would find myself filing for unemployment.  Stinking Germans!
Another time where the stinking old Germans really try to tick me off is when they are driving!  Even in my church parking lot, you really have to be careful with the stinking Germans behind the wheel.  It can be 15 degrees Fahrenheit with the wind howling and the snow blowing and you are coming out of church with your family, including your new-born baby.  You are trying to rush your family to the safety of the awaiting car but… LOOK OUT!!!… a stinking old German is coming right at you and there isn't a snowball's chance in hell that that old moron is going to slow down let alone stop to let you and your family find safety from the weather in your car… not until they drive by.  How DARE you think that the stinking old German should let you cross just because he or she is in the warm safety of their car; they are old and they are German… you should feel lucky that they didn't just run you down where you stand, because that is perfectly within their rights.  Don't you know who they ARE!  And if you think the church parking lot is bad, just wait until you try the stinking Walmart parking lot!!!