Why are so many parents sooo screwed up these days.  I mean, the wife and I are far from perfect,  but I consider us to be pretty good parents.  And I know a lot of good parents exist — but there are some pretty poor excuses out there as well.
I recently rented a movie at RedBox.  I'm kind of into cheesy horror, and RedBox had a brand new release.  I couldn't find any real reviews or anything for this gem because it was that fresh (straight-to-video).  The movie is called The Dead Want Women. It features Eric Roberts, so I figured it couldn't be that bad, right?  I mean, Eric Roberts is Julia Roberts big brother.  Sure, he's been in some duds, but he usually plays a pretty good meanie.  And the cover of this thing looked so campy that I figured it had to be good.
.
.
.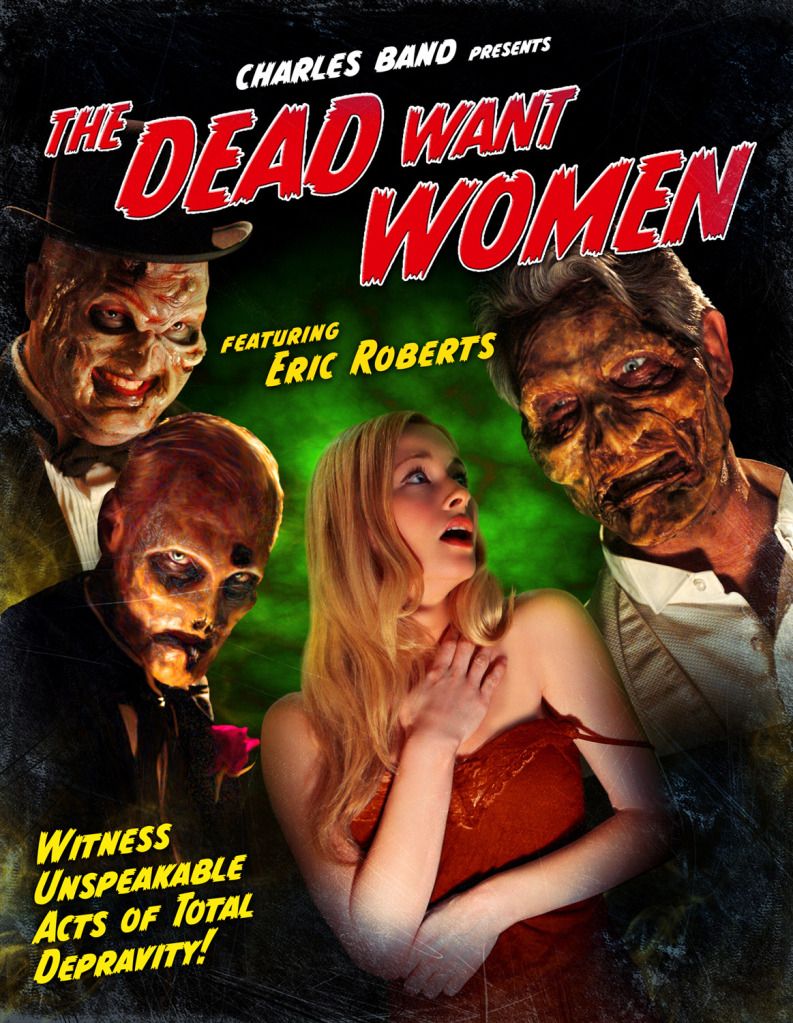 .
.
.
Now, when I rented this, I was not planning to sit down and watch it with my kids.  I wouldn't let my 8-year old (or even my 14-year old) watch a R-rated horror movie.  The violence is just too much.  I don't need my kids having nightmares.  Any horror movie that is scary without violence would be rated PG-13 (and there are some pretty good ones).  When you throw R-rated on a horror movie, you just figure there is going to be a lot of blood and guts and gore.  Personally, I love the gore, but I don't want my kids exposed to it.  Too desensitizing, in my opinion.  There will come a time when we can enjoy the gore together, but that time will be some years in the future.
Okay, so I watch The Dead Want Women, and it totally sucked raw rhubarb.  I mean, this thing is a worthless pile of crap.  Eric Roberts seemed to be having a good time playing this role, and for that alone he should be permanently barred from ever making another movie… EVER!  The acting really wasn't bad.  The make-up was horrendously clownish, and the plot was totally dented.  Now, the silly make-up would have worked if the movie had some campiness to it, but this dreadful wretch tried to take itself too serious and failed on more levels than I want to take the time to write.
What really gets me, though, is that by the time I got around to writing a review for this festering boil-of-a-movie on the RedBox website to prevent some other poor soul from sitting through even part of this monstrosity, there were some other reviews filing in.
Now, to be fair to some of the reviews that this film has garnered, there was an unusual amount of seemingly unnecessary nudity in this movie.  There are some strange sex scenes, and this one poor actress goes for almost half the movie completely nekked.  I think she may have lost a bet with the director or something…
So anyway, back to other reviews of this pile.  The very first review of the movie on RedBox stated (due to the sex and nudity) that the film is "Not for children."
?!?!?!?!?!?!?!?!
I'm sorry.  If it weren't for sex and nudity, is this reviewer saying that a violent, R-rated horror film normally would be cool for the kids to watch?  Does this reviewer normally sit back and watch people's flesh disintegrate in Cabin Fever while sharing popcorn with the toddlers?  Hostel is fine for the kiddos, but if they added too much nudity or sex, suddenly it would be deemed "not safe for kids"?  Seriously.
I thought maybe this one reviewer was just a little bit tilted as far as his or her perception went, but then I came across another gem that read, "Unclothed scenes put in at bad time! Dont watch this with kids!!"  Wow, the splattering blood and charred human flesh are all fine and good, but put in some "unclothed scenes" and suddenly it's not kid-friendly?
I guess I can only hope that these reviews weren't actually written by parents.  Maybe they were written by single people who dream of some day watching horror with their children.  Maybe they will realize that the violence and gore of a typical R-rated horror movie are enough that you really shouldn't be letting your kids watch it in the first place.
Or maybe — just maybe — watching The Dead Want Women was enough to actually cause some temporary brain damage to these folks.  I feel that even I have been somewhat dented from the experience…