A lot of guys like to cook.  I like to cook.  There is nothing wrong with a guy cooking, especially when he cooks something that ROCKS!  I like cooking with heat… and I don't mean on the stove.  I like peppers.  Hot peppers of all kinds; jalapenos, habaneros, serranos, green chilies, red chilies, yellow chilies.  I usually grow peppers over the summer to can or dehydrate to have on hand for cooking spicy food.
My love of spicy has been passed on to my two sons.  I guess my constant talk of, "real men like it hot," and "only wimps don't like spicy food" has probably helped develop this taste.  I think they are afraid to not like things a little spicy.  They will try about anything, and hardly ever admit that something is too much (although they aren't afraid to ask for milk while testing.)
My wife has even developed, to a lesser degree, a tolerance for my cooking.  She, however, isn't afraid to tell me something is too much.  She's such a girl.
I'm always trying new recipes and new takes on old recipes to spice them up.  I decided that I need to document some of them here to share with fellow lovers of all things spicy.  I'll throw an occasional recipe into the Happy Stinking Joy mix from time to time, only if I think they are worthy.     Some will be pretty simple, and some will take some time and effort.  I try to make things mild enough that the wife will eat them, yet with enough heat to make it worth my while.  I hope some of you try these out, and let me know what you think!
To start it off, I'll go with a recipe I made over this past weekend.  We went to a farmer's market and picked up some jams made with hot peppers.  We bought some strawberry/jalapeno jam and some peach/habanero jam.  $4.00 for like an 8oz jar.  Pricey!  So, I figured I'd make some on my own.  I'm guessing the overall cost is about 1/2 of buying it at the farmer's market.  A little more work that driving to the market, and you end up with more than a bottle or two, but this stuff will last like a year if you can it properly.
Please read the whole thing through before trying this recipe.  I'm not a professional recipe writer, and things may be a little out of order.  I'd hate for anyone to start and then figure out that there was something they were supposed to do before they get to a certain point.
Good luck!
Adventurer Rich's Pear/Jalapeno Jam
What you're going to need:
*6 medium jalapenos (approximate)

*4 pears (approximate) [pears + jalapenos need to yield 4 cups uncooked]

*1 Tbs margarine or butter
*1/4 cup lemon juice
*7 1/2 cups sugar
*1 3oz pouch liquid Certo
*canner
*1/2 pint or 1/4 pint jars with rims and lids, sterilized
Now, the first thing you're going to want to do is chop up pear and jalapenos.  Peel and core the pears, and chop the jalapenos.
.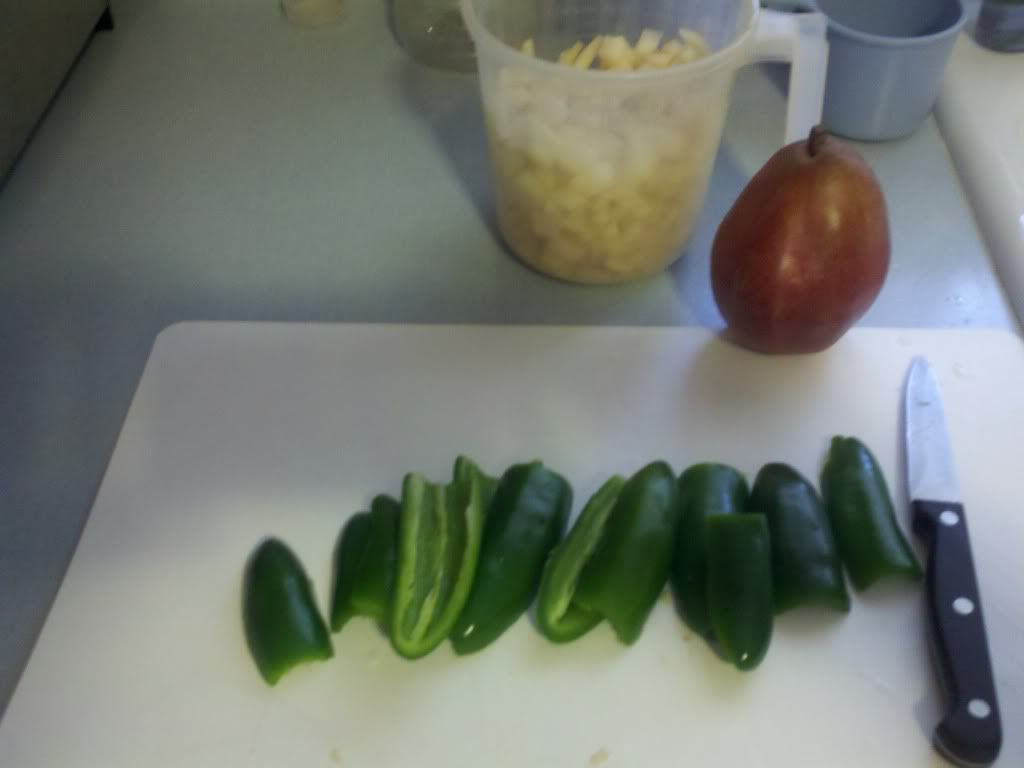 .
I cut up the pears and jalapenos with knife and then dice them.  I use one of those fancy choppers that you can get in the infomercials… you know, you stick the stuff in and then pound on the top of it to dice the contents.  You want pretty close to exactly 4 cups of diced pears and peppers.  If you want it a little hotter, add more jalapenos and less pears.  If you want it a little milder, go to a different website.  I removed the seeds and white membrane from the jalapenos (to make the wife happy), but if I were to make this again, I would leave them in to add more heat.  Once they chunks are the size you think you would like in your jam, throw them in a pot on the stove.
.
.
Add the sugar and lemon juice and throw the slap of butter or margarine on top; the fat helps prevent the mixture from forming an undesirable foam on top… and fat just makes everything a little better.  Most hot pepper jellies and jams call for vinegar (and even pickled peppers), and many people like the certain tanginess that vinegar adds.   I like the vinegar flavored jams and jellies too, but with this recipe, I wanted the fruitiness of the pear and jalapeno to be the centerpiece of the taste… thus the lemon juice as an acid instead of vinegar.  Look at me, I'm writing like I know what in the hell I'm talking about!  Don't be mislead… I'm as confused as ever.
Once you have everything in the pot, turn the heat up to medium on the burner and bring the works to a rolling boil.  A "rolling boil" means that the mixture's boiling can't be stopped by you stirring it.  Speaking of stirring, you want to stir this pretty constantly.  Sugar burns very easily.  Speaking of sugar… that crap gets very hot.  As soon as the sugar is melted, I'm pretty sure it is about temperature of the center of the earth.  Once it boils, I'm guessing it would make the surface of the sun feel like a day at the beach in Canada.  In other words, don't touch the hot sugar.  Seriously.  You'll be sorry (I was).
.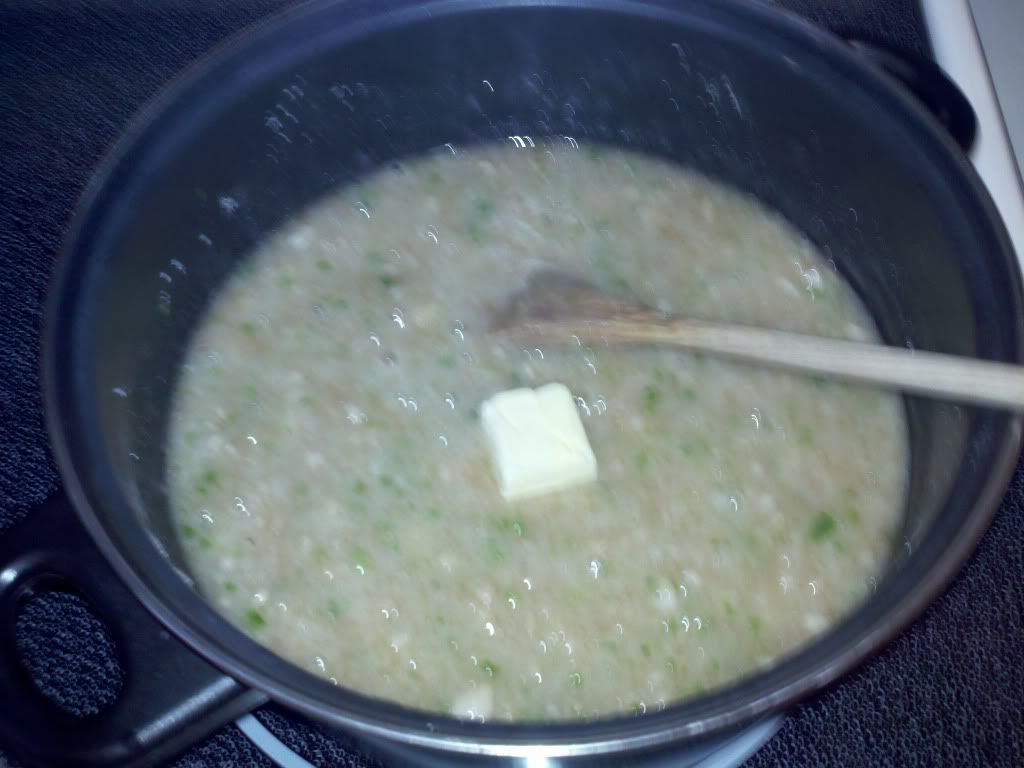 .
Once you have that rolling boil, it's time to add the fruit pectin.  For this recipe, I recommend ('cause it's what I used… and it worked) Certo Liquid Pectin.  One three ounce pouch is just right for this recipe.  The cool thing is, I bought a box of the stuff, and there were two pouches, so I have an extra pouch to make something else.
.
.
Once the pectin is added, bring back to a boil and boil for as close to exactly 1 minute as possible (stirring constantly).  I'm guessing that if you don't boil it long enough, you'll have syrup instead of jam, and if you boil it too long, it will be more like rock candy; both of which are great ideas, just not for this recipe.
.
.
Now it's time to fill your sterilized canning jars.  Remember, this crap is HOT!  Be careful.  If you get it on your hand, you will cry like a little girl (I did), and the pain will last FOREVER!  Fill the jars to about 1/4 inch of the top.  If you get some of the mixture on the lip of the lid (which you will), wipe it away.  You want the lip clean to ensure a proper seal and prevent icky stuff from getting in.
.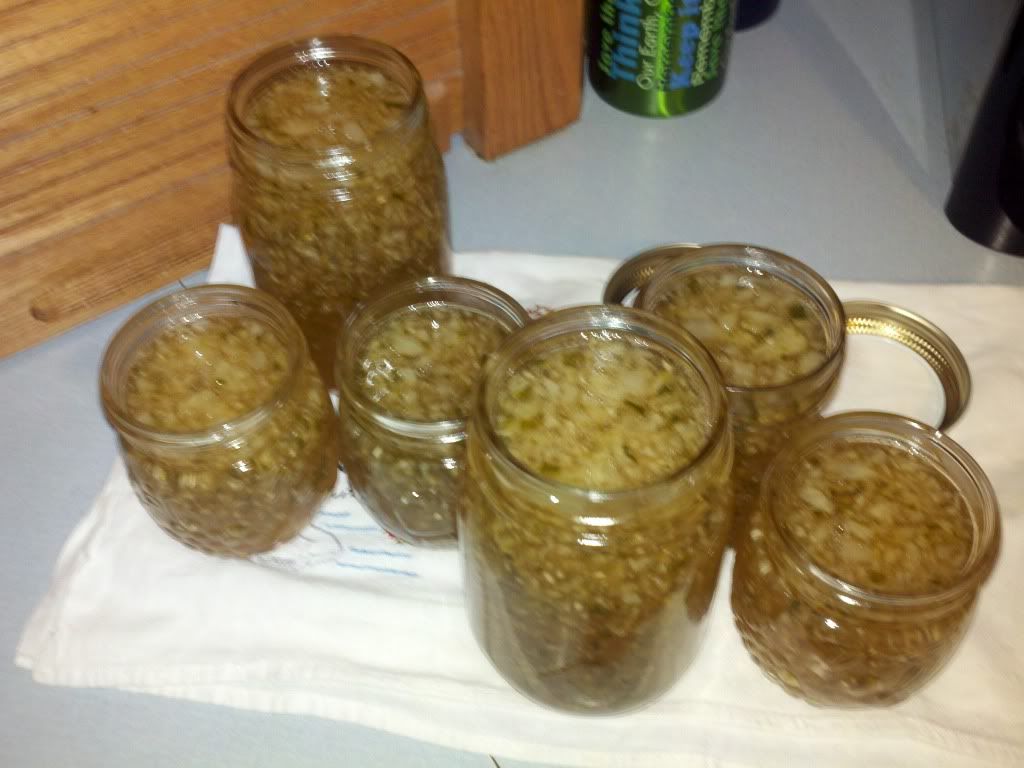 .
Alrighty, now it's time to put the lids and rims on.  Again, make sure the lips and threads of the jars are clean.  Keeping the lids in hot warrm until you are ready to place them on the jars is a good idea.  Why?  Who knows.  It's just a good idea.
.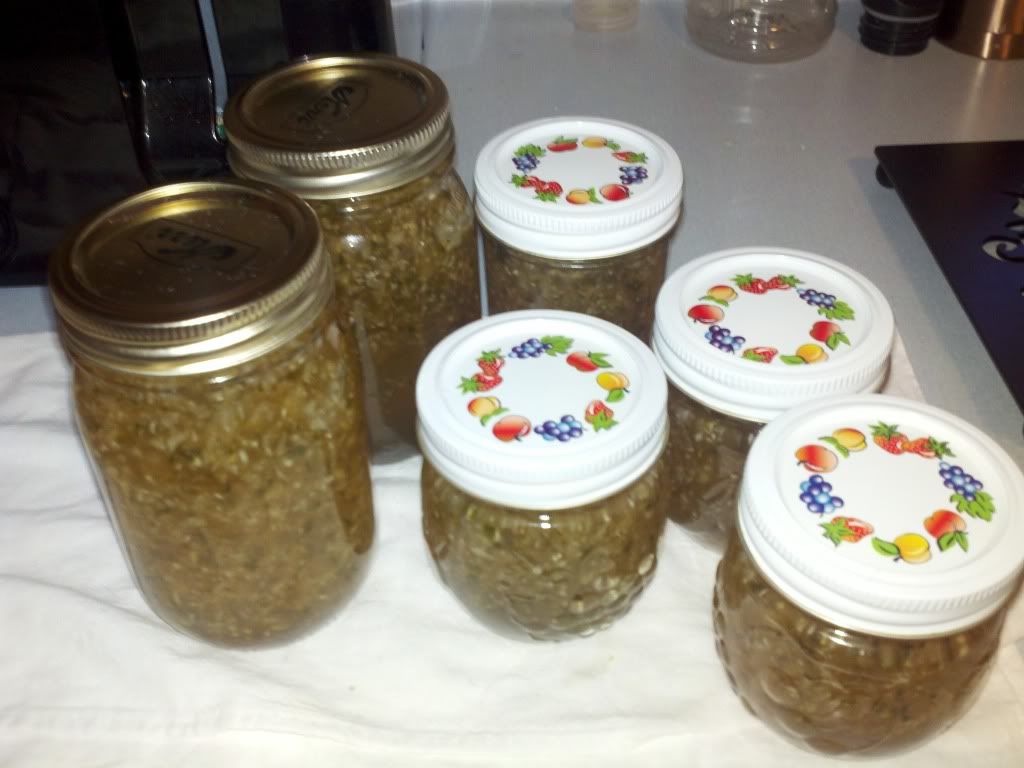 .
Now the jars are ready to go into the canner (which should be filled with boiling water).  Make sure there is enough water to completely cover all of your jars.
.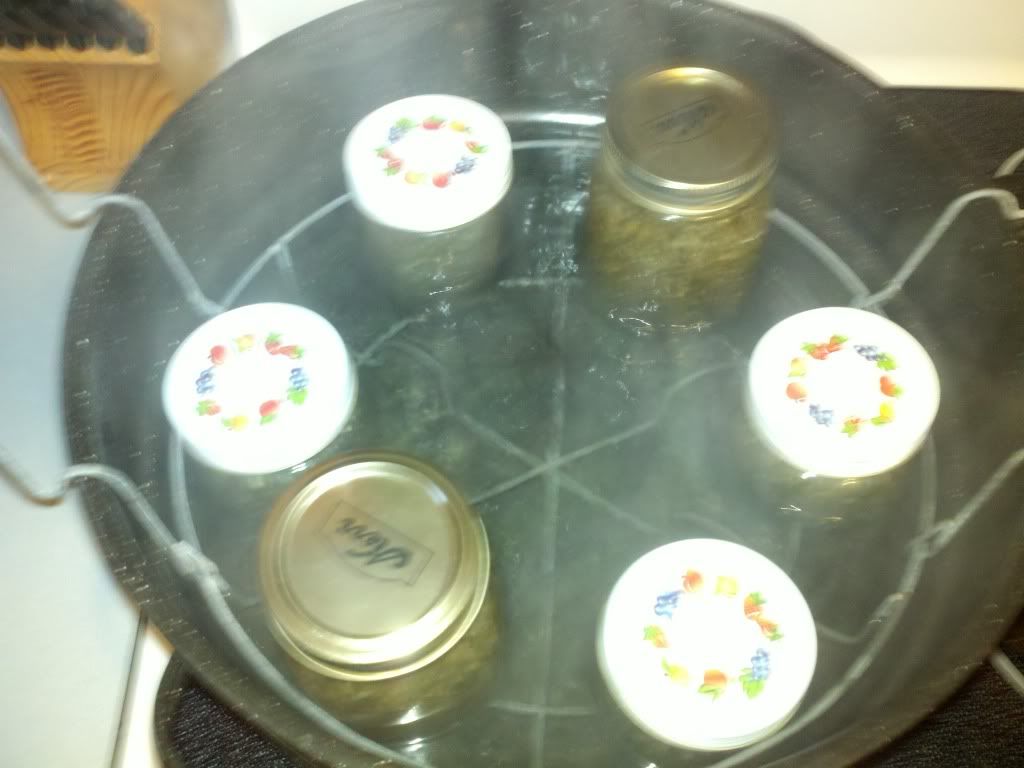 .
Lower the jars into the water, place the lid on the canner, and boil those bad boys for 10 minutes.
.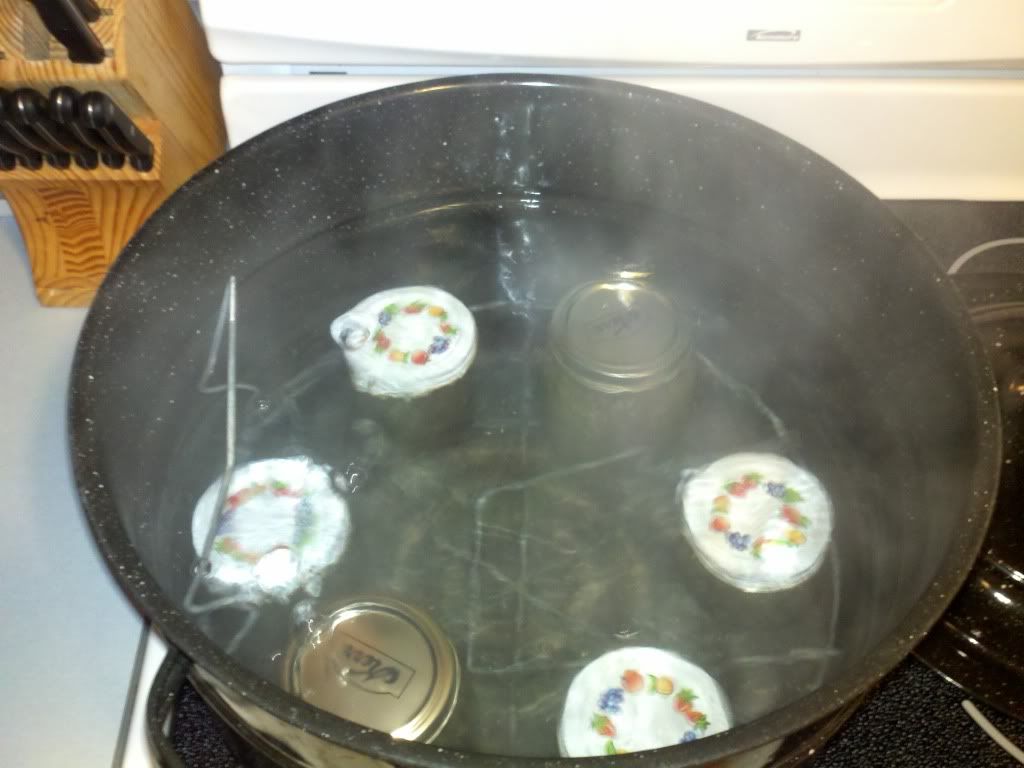 .
Remove the jars from the canner and set them on a dishtowel on a counter to let them cool.  If they are canned properly, the lids should pop down and not pop back up when you push on them.  It jam may have to cool quite awhile before the lids don't pop back up.  If you have a jar or two that the lids refuse to seal on, that's ok; those just need to go in the fridge and be the first ones you eat.
Once the jars are sealed, place them in a cool, dark place and you can store them for up-to about a year (but I doubt they will last that long… 'cause you're gonna eat this slop up way before a year).
Once of my families favorite way to eat this stuff is on cracker with cream cheese.
.
.
You know what's really cool?  Not only do the flavors of the pears and jalapenos compliment each other nicely, and the mild heat of the jalapenos make this a solid spread for pepper-heads… but the jam looks kind of like something you might clear from the back of your throat!  Now, that's a jam a any real man would be proud to eat!
.