I always write about how nothing good comes from the panhandle of Nebraska. Apparently, my beliefs may not be 100% accurate.  On January 15, 2011, for the first time in history, Miss Nebraska was crowned Miss America.  Miss America is from Nebraska, and that is something kind of good.
.
.
.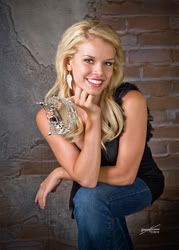 .
.
.
Teresa Scanlan was crowned Miss America in humble Las Vegas, Nevada at an understated ceremony viewed by a few people around the world on ABC.  Teresa Scanlan is 17-years-old (one of the youngest Miss Americas ever… and the youngest Miss Nebraska ever), plays Chopsticks on the piano like nobody's business, fills out a bikini nicely (even if there isn't much bikini there), looks extremely elegant in evening ware, and isn't afraid to answer a politically-charged question with a politically-incorrect answer (and she still won?!?).  Teresa is intelligent, and her goals are not acting or a singing career or modeling.  Her goal is to find a seat on the U.S. Supreme Court… and I know that the Presidency of the U.S. is not something she sees as out of her reach.  Normally, I would scoff at a beauty-pageant winner stating that she may have her eyes on our nation's highest office, but I have been following Teresa's story for awhile now.  You know how some people seem to be able to actually accomplish the goals they set for themselves?  Well, Teresa is one of those people.  And the kicker is… Teresa is from the panhandle of Nebraska!  In fact, she probably lives less than a couple of miles from the humble abode I call home.  So, I guess not everything in the panhandle of Nebraska sucks.
Now, if you've ever read my blog before, you know that my blog posts that are completely without a complaint are few and far between.  In fact, this is my 75th post in about 1 1/2 years of blogging, and I think there have been like 3 posts without a complaint!  This post, I'm afraid, is not going to be the 4th.
In past posts, I have complained about the idiocy of Scottsbluff and Gering residents regarding the differentiation of the two communities.  Scottsbluff is proud to be Scottsbluff, and Gering is proud to be Gering.  The two small communities refuse to consolidate and become one rural powerhouse.  Instead, they remain separate in both government and attitude, and they remain two rural economic weaklings.  Gering residents especially are territorial and throw major whining fits whenever consolidation of the two communities is mentioned.  Gering, of course, is the smaller of the two communities (they don't even have their own grocery store), and seems to be suffering from a touch of Napoleon complex.  My personal opinion is that the two communities should put aside their perceived differences, join economic forces, and become one.  With the combined talent and resources of the two communities, we could grow into the next Ft. Collins.  Or… we can stay separate, and things around this dump will never change.  Each community is already reliant on the other, and neither community will ever thrive without it's neighbor.  Stop being neighbors and start being family!
Well, this division between these two communities was well presented after Teresa's accomplishment tonight.  When I logged onto my Facebook account tonight, after the victory, the division was quite prevalent.  You see, Theresa lives in Gering, NE, but Teresa graduated from high school in Scottsbluff, NE.  Oh my!  Which community does she really claim?  She chose Scottsbluff as the place to complete her high school education, so she prefers Scottsbluff, right?  Oh, but she went to school in Gering, and she and her family live in Gering, so she is a Gering girl, right?  A common example of a Facebook thread is as follows:
Scottsbluff jerk's status:  Congratulations to Scottsbluff's own Teresa Scanlan!
Gering moron's comment:  You realize she's actually from Gering, right?
Scottsbluff: Well… she graduated from Scottsbluff High!
Gering:  Yeah… but she went to Gering schools too…
Scottsbluff: But she chose to graduate from Scottsbluff!
Gering: … but her family still lives in Gering.
blah… blah… blah…
Seriously… the most prestigious beauty-related award that a young woman in the United States can win… and she is from NEBRASKA, and not just Nebraska, but the PANHANDLE OF NEBRASKA… and you idiots have to argue about exactly which town she is from?!? What would Miss America think?!?
Well, I would guess that Miss America would say:
"I am proud of being from both Scottsbluff and Gering.  These two communities have every right to claim me as their own, because I love both and will continue to support both as I complete my duties as Miss America.  Scottsbluff: I will continue to shop your stores and eat at your restaurants and praise your school system!  Gering: I will… uh… I know there's something… oh yeah… I will continue to sleep in your jurisdiction… when I'm not out doing Miss America stuff… promise!"
She is, after all, thinking of being President, so she has to learn to diplomatically lie…
Seriously…  Husker-football can't win their way out of a wet paper bag and the Husker-girl's volleyball choke in the tournament.  The most impressive thing to come out of Nebraska in the past few years is Teresa Scanlan… and us locals are arguing about where she is really from?!?  And people wonder why I bitch…