Here it is, Saturday evening, and I was trying to figure out something to do with the family.  I get tired of sitting around on the weekends doing nothing fun.  Our local crappaper, the Star-Herald, is always trying new things to get people to fork over a buck for a paper not worth 25¢.   This is a newspaper that charges for obituaries, so I have little respect for the heads of this paper (who are based in Omaha… so they are complete idiots who know nothing about life in rural Nebraska).   The Star-Herald's most recent attempt at suckering people into purchasing this rag was a little insert they put in the regular paper called "101 Things to do in Wyobraska".  I kept this insert to use as a reference for times just like this; times when I'm trying to find something for my family to do to get out of the house and away from the TV and computer.  Well, after glancing through the Star-Herald's "101 Things to do in Wyobraska," I was still clueless.
The wife says, "Did you decide what you want to do… I kinda wanted to take a shower tonight, so if we're going to do something, let's do it."
"Go ahead and take your shower," I say.  "I'm going to spend yet another night on the stinking computer.  The boys will rot their brains in front of the TV and I'm going to write a blog post about how there really is nothing to do around the Craphole… and how the Star-Herald's suggestions suck!"
"Okay, have fun with that," says the wife as she heads off to take her shower.  I get no sympathy.
"101 Things to do in Wyobraska"… seriously!?!  In the introduction to this guide, the editors of the Star-Herald admit that a common complaint around our area is that there is nothing to do here.  They don't believe that is true (because if young people continue to leave the area, all that will be left are old people, and although old people are more likely to read newspapers than young people, old people die… and there will be no one left to pay for their overpriced paper… so what else are they going to say?)  In their introduction, the editors go on about how they know there are way more than 101 things to do in our area, and don't worry if your favorite is missing because they are going to be making this an annual project, blah blah blah blah.  An annual project?!?  It seems like they were seriously scraping the bottom of the barrel just to come up with this stinking list!  There is no way I am going to waste your time or mine covering each of the 101 things covered in the Star-Herald's guide.  I'm just going to cover some of the highlights… and then it will be off to bed… early… again… because there is nothing fun to do here.
#28 – Reel in a pike at Box Butte Reservoir
#48 – Troll for a monster at Walgren Lake near Hay Springs
#52 – Battle a bluegill at Smith Lake
#61 – Fish walleyes through the ice at Whitney Lake
#83 – Wet a line in the waters at Fort Robinson State Park
#87 – Fish for trout on Nine Mile Creek
Apparently someone on the Star-Herald's staff really likes his fishing.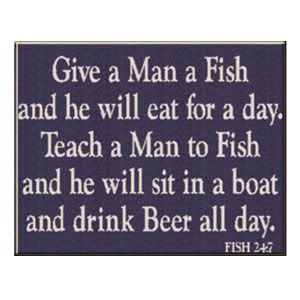 I can't get my kids to sit still for fishing for more than 15 minutes, so driving umpteen miles to some middle-of-nowhere fishing destination only to leave with screaming, fighting kids only 15 minutes later and have to drive all the way back home does not sound like something to do… it sounds like something to AVOID!  Those six are out immediately.
#24 – Eat a Tin Roof Sundae in Potter
Potter is over 60 miles from where we live.  60 miles.  It would be an hour each way.  That's two hours of drive time for an ice cream sundae.  My car gets 25 miler-per-gallon, so we're looking at almost 5 gallons of gas at almost $3 per gallon.  That's 2 hours and $15 just to make the trip!  That doesn't include the cost of the sundae's once you get there.  The drive from the Scottsbluff to Potter, by the way, is far from scenic.  These would have to be the best sundaes in the entire world to get me to make this trip… which I highly doubt they are.  I'm sure they are good, but I doubt they are worth a 2 hour drive and $15 in gas.
#39 – Listen to a windmill whisper at the wind farm near Kimball
"Windmill whisper"… really!?!  These are not your typical windmills.  These are wind turbines used to create energy.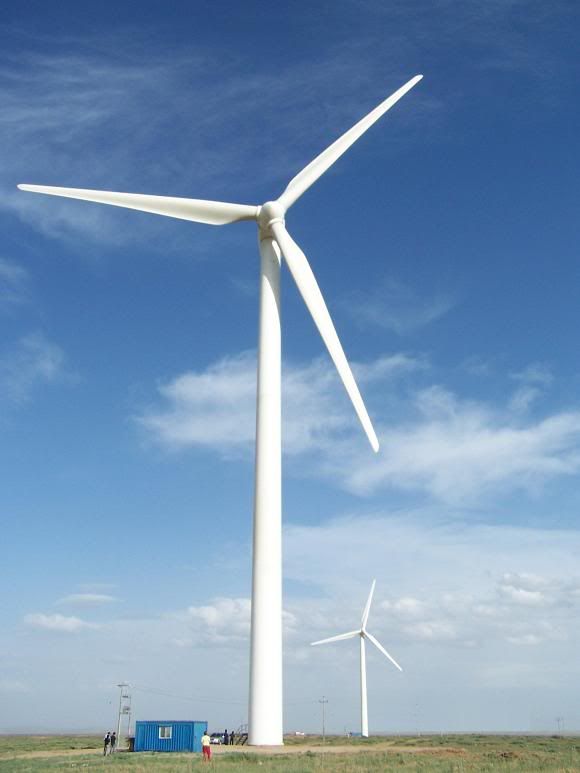 They are really tall, and I agree they are cool to look at from the road, but making a 45 minute trip to listen to them "whisper"… not a family fun activity.
#54 – Photograph the foundations of Nebraska's potash boom near Antioch
Yeah, I didn't know what potash was either.  Apparently potash is used in fertilizer.  Potash is separated from alkaline lakes, and Antioch was at the head of this boom… which apparently lasted about 5 years and no one really remembers it.  The only traces of the "boom" are some foundations to some buildings.  So, driving out to the middle-of-nowhere  to look at some old foundations from a boom that no one remembers…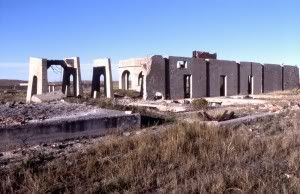 …see what I mean by scraping the bottom of the barrel?
#60 – Buy a pair of spurs at Morgan's Cowpoke Haven in Ellsworth
I don't own a horse, so why would I need spurs?  I don't think most of the residents of our community own horses, so I doubt they need spurs either.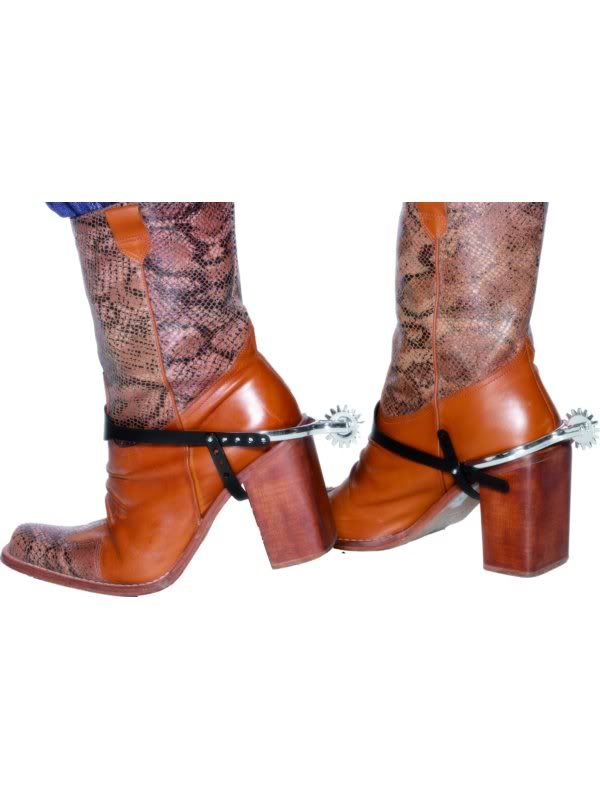 Not to mention the fact that Ellsworth is almost 100 miles away and seriously in the middle-of-nowhere.  I'm packing up the family for a trip to Ellsworth as I write… sure I am.
#64 – Spin a yarn at the Scotts Bluff Valley Fiber Arts Fair
Wow, I've always wanted to learn how to knit.  Nothing brings to mind a night of family fun like the word "knit."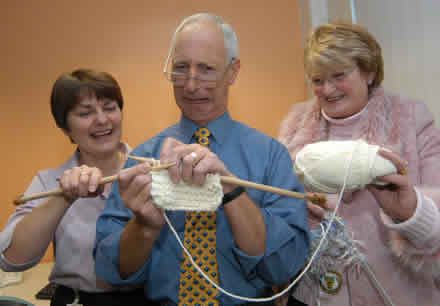 There really is stuff to do in Wyobraska.  Someone shoot me now, please!
#72 – Get history on the go at the region's wayside markers
Wayside markers… you know, those little signs on the side of the road that explain trivial bits of history that no one actually stops to read unless it's a guy who really has to take a leak.
This is one of the "101 Things to do in Wyobraska"?  I think we may have actually dug through the bottom of the barrel and mucking around in the dirt below.
#14 – Relive history at Robidoux Pass National Historic Landmark
This one really hit home for me.  When I saw this listed at #14, I knew this list was going to mostly be a joke.  You see, I have actually done this.  One day, a few years ago, I took the wife and our son (at that time, we only had one) to Fort Laramie National Historic Site (which comes in at #66 – Enjoy any season at Fort Laramie with the spirits of past visitors).  Fort Laramie, I'll admit, is pretty cool.  This historic site is an old fort with many of the original buildings still standing.  It is fun to go to… about once every 10 years.  We're only a couple of years from going again.  Anyway, after a spending a day in history, we didn't want our history lesson to end.
After leaving the fort, I said to the wife, "Hey, what about that Robidoux Trading Post?  Have you ever been there.  It sounds cool."
"Nope, never been there," says the wife.  "Why don't we go."
So, we drive all the way back to Scottsbluff from Ft. Laramie and go on a search for the historic Robidoux Trading Post.  We drive and we drive and we drive over bumpy gravel road and breath in the wonderful dust of Nebraska.  Finally, off to the south, we see a crappy looking shack.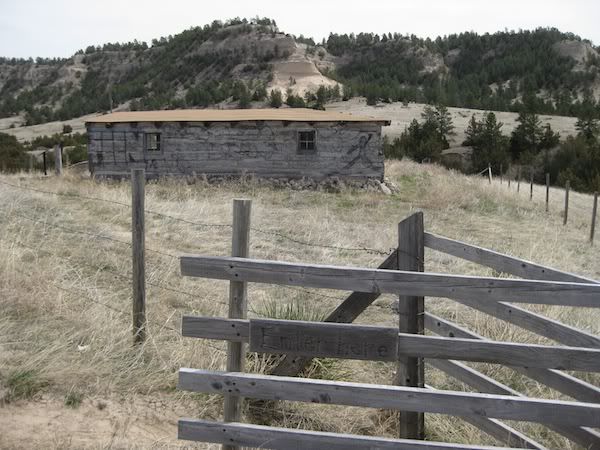 "I think that's it," says the wife.
"That's it? I ask.
"Pretty sure that's it," says the wife.
You've got to be kidding," I say.  "For crying out loud.  That's just a shack."
"Says here," the wife says, looking at the wayside marker by the shack, "that this isn't even the original shack.  This is a reproduction."
"Why would anyone reproduce a crappy little shack?" I ask, my head starting to hurt.
"For historic preservation?" ventures the wife.
"Why would anyone reproduce a crappy little shack and put it out in the middle-of-nowhere and encourage people to drive over crappy, bumpy gravel roads and breath in all of that crappy dust just to get to it and be disappointed?"  By this time, I'm actually rubbing my temples.
"I guess some people like stuff like this," says the wife.
"IT'S A CRAPPY REPRODUCTION OF A CRAPPY LITTLE SHACK IN THE MIDDLE-OF-NOWHERE!"
"You're preaching to the choir," says the wife.  "Let's go home."  The wife doesn't let things stress her out like I do.
Of course, this list of things to do includes a lot of "eat this here" and "buy that there", many of which I have tried and few of which I would consider a destination for family fun.  The Star-Herald's lame attempt at giving the average family something to do in Wyobraska actually made me reconsider my stance that there is nothing to do here.  There is all kinds of stuff to do here… it's all just really, really lame.